Food: Tempura Shimomura (てんぷら 下村)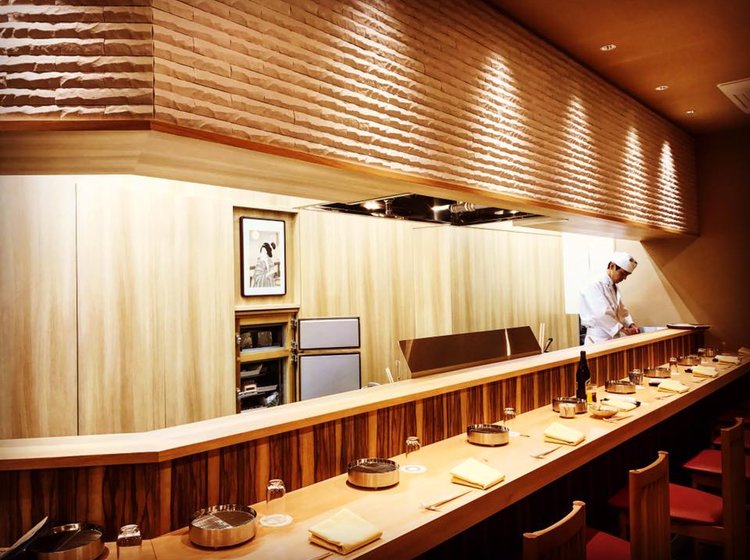 Address: 〒111-0055 Tokyo, Taito City, Misuji, 1 Chome−11−13 1F
I recently went to this Michelin-starred tempura restaurant in Taito City twice in one week. While it is normally supposed to be almost impossible to get in without reservations (seating is only a counter with 10 or so seats), it has been a lot easier to get into even the most popular restaurants in Tokyo because of the coronavirus.
While my previous favorite tempura restaurant was Tsunahachi (the location in Shinagawa is the best in my opinion), Tempura Shimomura is now my new favorite tempura restaurant. While it is more expensive than Tsunahachi, I believe that the quality more than makes up for it. Also, I would recommend going to Shimomura for lunch, as it has some great lunch special deals. Dinner can go above 10,000 yen for the more expensive courses. For lunch sets though, Shimomura has kakiage and ten-dons for about 2000 yen, and 10-12 piece tempura sets for anywhere between 4500-6000 yen. Furthermore, Shimomura also has ala-carte options if the sets are too extravagant.
Finally, I am a big fan of the owner of Shimomura. While he does not speak much English, he is a very nice man, and obviously highly qualified as a chef. It is only him and his wife working at the restaurant, so it really the feel of a small, family-run restaurant. After talking to the chef for a bit, I was shocked to learn that this restaurant has only been open for 2.5 years (he previously worked at a hotel restaurant in Tokyo), but was awarded its Michelin star after only 1 year of business. This demonstrates the consistent quality of the ingredients and the preparation.
If you are ever in Tokyo, I would highly recommend this to be the first tempura restaurant that you try and hit.
Food Tokyo Food Michelin Tempura Shimomura ten-don Tokyo Tsunahachi
Hi,
This is a blog for myself (and hopefully others) to keep track of all of the places, restaurants, books, movies, etc. that I do not want to forget. I am a college student who has lived in the US, Asia, and Europe for extended periods of time; I am very lucky to have had these experiences, and I want to share my recommendations with people interested in any of these locations.
NONE of these posts are advertisements. I do not have any discount codes or promotions for anything I write about; however, this should be considered a positive because it means that everything I write about reflects my true feelings. In order to keep this blog positive, my posts will only be recommendations for the things I enjoy the most in life. The topics will vary between whatever subjects I am interested in at a certain time, and I will have 1-2 new posts per day.
I wish I could have started this project earlier while some of my memories were fresher in my mind, but it is better late than never. I hope that other people will have the chance to visit or experience things that I write about, and I hope that people will have a similar taste in life to myself!